Furthering the Mission of Loma Linda University Health with a Gift of Real Estate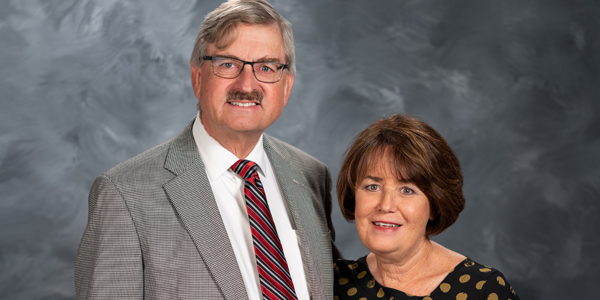 Steve and Merle Hildebrand
- By Rathyna Krumme
Over almost 40 years of marriage, Steve and Merle Hildebrand have showcased a deep dedication to furthering the mission of Loma Linda University Health. Their connection to Loma Linda began decades ago when Steve's father, Eugene, attended the School of Medicine and graduated in 1953. His father met Steve's mother, Jean Chapman, at Loma Linda University. She graduated from the School of Nursing in 1947. After they married, they spent many years overseas and eventually started their family. As he was growing up, Steve felt called to Loma Linda University and began his studies at the School of Medicine in 1977 where he met Merle, who was working as a pediatric nurse on campus. Merle had completed her nursing education in Massachusetts and accepted her first job at Loma Linda University Medical Center. Steve and Merle began their professional careers at Loma Linda University Health where Steve completed his residency and eventually returned for a cardiology fellowship after he and Merle spent seven years in Guam.
After completing his cardiology fellowship, one of Steve's classmates invited them to join his practice in Hendersonville, North Carolina. Steve and Merle purchased a home and decided to buy the vacant lot adjacent to their new home overlooking their backyard. After their time in North Carolina, Steve's classmate, Virgil Nielson and his wife Karen, reached out to Steve and Merle and invited them to join the Loma Linda University Councilors. The Councilors serve as ambassadors to the community and help further the mission of Loma Linda University Health in significant ways. Steve and Merle did not hesitate to accept this invitation since this group aligned with their values and passion.
After spending 12 years in Hendersonville, Steve and Merle sold their home, but kept the vacant lot. In time, they decided to donate the lot to Loma Linda University Health. The Councilors had been working on a project for Vision 2020 and Steve and Merle had been brainstorming how they could give a gift beyond their available cash. They thought their vacant lot would be a great way to significantly donate towards this project.
Steve and Merle reached out to the Office of Planned Giving to discuss their plan. The Office of Planned Giving referred a realtor local to Steve and Merle and after a bidding war took place the lot sold for higher than expected allowing Steve and Merle to give even more to the Councilor's project.
When asked about why they decided to give a gift of real estate, Steve and Merle shared, "We believe in the mission of Loma Linda University Health — their heritage and what they're doing in the current medical climate. We believe in supporting the institutions that have helped us get to our professional place in life. We believe so deeply in the mission that we hope this gift can help other people think of ways they can support the organization."
If you would like to learn more about how you can support Loma Linda University Health through a gift of real estate, please contact the Office of Planned Giving at 909-558-4553 or legacy@llu.edu.