Scott and Anne Wilcox on sharing their blessings with others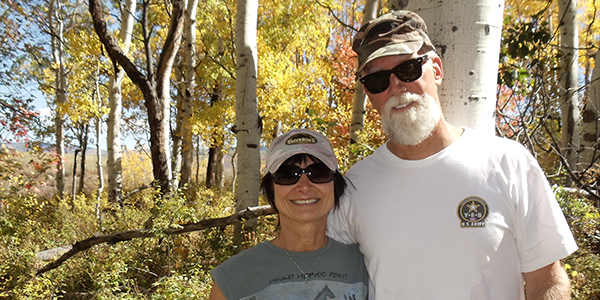 By James Ponder
Scott and Anne Wilcox of Morro Bay, California, enjoy a leisurely afternoon with their 2001 Harley-Davidson Heritage Springer. Scott chose proton therapy at Loma Linda University Medical Center after he was diagnosed with prostate cancer in 2012. The couple was so impressed with the care they received that they remembered proton research in their estate plan.
For Scott and Anne Wilcox, his recovery from prostate cancer is a gift from God.
Whether cruising the Central Coast of California on their turquoise and cream Harley, hunting in the mountains, or including Loma Linda University Health in their estate plan, the retired schoolteachers from Morro Bay, California, make a point of enjoying each day to the fullest.
Unfortunately, the ride screeched to a halt in January 2012 when Scott learned he had prostate cancer. "That's some of the worst news you can receive from a doctor," he recalls.
"Usually, I'm very optimistic," Anne adds, "but when I learned he had prostate cancer, that was something I never wanted to hear."
"We went home to analyze our treatment options," Scott continues. "At that point, God played a big part in things. He directed Anne to call a neighbor lady down the street and tell her I had prostate cancer." The neighbor said, "I have a book here that Scott needs to read," referring to Robert J. Marckini's bestseller, You Can Beat Prostate Cancer And You Don't Need Surgery to Do It.
"That was just the beginning of a number of events God used to open doors that illustrated Dr. Martell's assertion that, 'No one comes to Loma Linda by accident,'" Scott recalls, referring to J. Lynn Martell, DMin, director of special services in the department of radiation medicine at Loma Linda University Medical Center.
After reading the book, Scott and Anne reached out to Deb Hickey at the Brotherhood of the Balloon for more information. Deb manages the 6,500-member organization Mr. Marckini started as a support group for men with prostate cancer and their families. Bolstered by her encouragement, Scott told his urologist he wanted to follow the book's recommendation to seek proton therapy in Loma Linda.
"I had a good urologist," Scott recalls. "He said 'I think you need to go down there to Loma Linda for a consult because you'll always wonder about it if you don't.'"
The urologist cautioned that the insurance carrier probably wouldn't pay for proton therapy, but Scott wrote a letter of medical necessity anyway, explaining that he has a history of adverse reactions to medical procedures, and asking for an exception. When his primary care physician signed Scott's letter and faxed it to the insurance company with a referral to Loma Linda for proton therapy, he reiterated the urologist's assertion that the carrier would likely deny it.
Undaunted, Scott and Anne headed to Florida to visit his elderly mother. A few days later, he began calling the insurance company. Anticipating rejection, he also penned a 42-page appeal document just in case. He and Anne prayed earnestly and asked several of their friends to join them.
"We had two churches and the Black Sheep Harley-Davidsons for Christ," he shares, referring to a motorcycle ministry he and Anne belong to, "praying that God would open the doors for me to receive the best treatment possible." In the meantime, he kept calling the insurance carrier.
"I kept hounding them for seven days," he reports. "On the seventh, they said, 'We've approved you to go to Loma Linda.'"
Scott and Anne were overjoyed! "I called Loma Linda from Florida," he informs, "and said, 'I'll be flying into Ontario on February 26.' They said they could get me in to see Dr. Grover on the 28th."
A week after meeting with radiation oncologist Ryan S. Grover, MD, Scott got a call from Loma Linda notifying him that he could start the program the following week. He and Anne loaded up the Harley and headed to the Inland Empire for 10 weeks. After getting fitted for the pod that holds the body in place during the proton sessions, Scott had a CT scan, and prepared for his first treatment.
"It went pretty well," he reports. "I would be treated at 8 AM every day, then go to LA Fitness and work out until noon. We stayed at a friend's house in Highland and rode the Harley every day. We probably put 2,000 miles on it. My buddy has a Yamaha and we took a ride up to Big Bear. We pretty much did our normal routine, just in a different place."
"You also painted your friend's house," Anne reminds.
Although proton therapy didn't crimp Scott's style, it wasn't entirely free of complications. "I had minor urinary side effects during the final six weeks of treatment," he notes. "Minor stuff like urgency and frequency, but it went away a month after treatment."
Four months after his treatments ended, a conversation with his urologist's assistant reminded him why he chose proton therapy instead of surgery.
"When I had my first 4-month follow-up, the urologist's assistant began to ask if I had incontinence, sexual dysfunction, or other problems. I stopped her and said I had zero side effects. She was stunned. I asked her how many of the doctor's patients who have surgery or conventional radiation come in at four months with no side effects. She said, 'None.'"
Today, nearly two years after completing proton therapy, Scott and Anne remain grateful for the way they were treated at Loma Linda and want to give back. They found two ways to do that.
First, Scott asked Deb Hickey and Dr. Martell to include him as a reference for men who have been newly diagnosed with prostate cancer. "I get one or two calls a week," he says. "I often spend an hour or more with each of them, helping them learn more about treatment options, especially proton beam therapy."
Second, they decided to remember proton research at Loma Linda University Health in their estate plan. After working with Paul Arceneaux and Tricia Murdoch in the Philanthropy Department, they were referred to Rich Bennett from the Office of Planned Giving. Scott describes the Loma Linda representatives as "very nice to work with; they were not the least bit pushy."
At Scott and Anne's request, Rich Bennett worked with their executor, the Barnabas Foundation, to craft a plan for donating 25 percent of their estate to the Robert J. Marckini Endowed Chair for Proton Research at Loma Linda University so others can benefit from the program that Scott describes as "one of the best experiences of my life.
"Loma Linda is such a caring, loving place with such high medical standards," Scott concludes. "It's a wonderful place to give to. We were fortunate enough to benefit from treatment there and wanted to pay it forward for people in the future."
_________
For information on charitable gifts to any of the entities of Loma Linda University Health, please contact the Office of Planned Giving at (909) 558-4553 or go online at www.llulegacy.org