Rebel With a Cause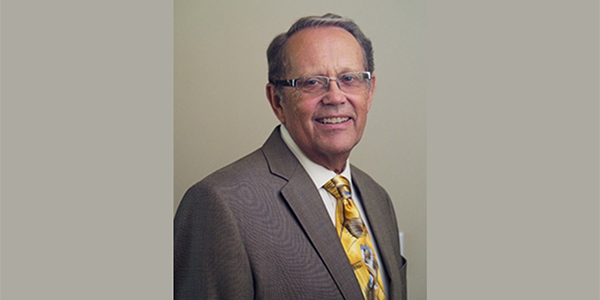 By Lynn McDowell, JD, Planned Giving Officer
As a 12-year old muscular dystrophy patient defying his doctor's orders to eat meat, Don Hall, Doctor of Public Health in Preventive Medicine, showed early signs of seeing beyond common practice. With an eye for important but overlooked connections, Don would soon make a positive impact on the health of millions through WellSource, his ground-breaking computerized health analysis program. By 1983, he was in TIME Magazine.
Attracting early corporate clients like Nike and Aramco, WellSource had its best year ever in 2016, and Don turned his discerning eye to philanthropy. He wanted to make sure that the positive impact of his career and life-long passion — sharing the "secrets" of wellness — would continue for generations to come.
"I suppose it's the rebel in me that wants to teach people how to take care of themselves rather than focusing on illness," Don says.
Keeping up with the latest health research, writing, and presenting seminars and workshops on wellness fill his semi-retirement while WellSource, with 35 full-time employees, "runs itself." With the goal of "giving back," Don began to investigate planned giving — a little-understood specialization of tax and charitable gift planning.
Planned giving philanthropy is the kind of niche that Don has always felt good in — emerging but built on solid research, and potentially very powerful. The combination of expertise in the university's Office of Planned Giving and the Adventist Health Study at the School of Public Health from which he graduated was, in Don's estimation, the perfect pairing. The study was already making waves: "Blue Zones" research pin-pointed Loma Linda as one of 13 areas around the world where people were living exceptionally long and healthy lives — the only community in North America to meet Blue Zone criteria.
Once Don and his wife, Trish, decided on the legacy of an endowed chair — the Don and Trish Hall Research Professorship, which oversees the Adventist Health Study — they looked at the best way to fund it. In consultation with Loma Linda University Health's Office of Planned Giving, the Halls settled on a couple of strategies: an annual IRA rollover gift and gifts of stock .
Why an IRA Rollover?
An annual gift from his IRA really appeals to the "supersaver" side of Don's personality. Don finds this the most efficient way to finance his Vision 2020 cash pledge.
"It's much more economical to roll IRAs over to the school than to pay the tax. It's a big tax advantage to be able to work through the organization," he says, because he's contributing before tax dollars. His alma mater gets 100 percent of the draw paid by the IRA's custodian at Don's direction, and no tax is triggered.
Why Use Shares?
Gifts of shares provide several benefits. These include completely avoiding capital gains tax on appreciation when the stock itself is gifted ("in kind") to a charity. A tax receipt is issued for the full present value of the stock. This can be used to offset other income and further reduce taxes. The key is to transfer the shares. Typically, the charity will immediately sell the stock and receive more than if the donor had sold the stock and given what was left after tax.
"Education is the best thing you can give a person," Don says. He's never stopped learning, and his decision to investigate — and use — planned giving is already making the outstanding outcomes he envisioned a reality.
See Don talk about his experience in a short video.
Visit our website for more information on these gift types and other planned giving strategies.